Press Spacebar to toggle combat mode also known as war mode. If you have a Current Target selected, you will begin attacking them immediately.
WARNING: Be careful! Make sure you are not attacking the wrong target, as it may be considered criminal action and cause you to become criminal and possibly killed by Guards if in town.
Selecting targets happens a couple of ways: by clicking on a being, or by hitting Tab (default) to cycle through targets.
While you have a target selected, the target's healthbar will appear with the label Current Target (unless this option is disabled in Character Settings)

Hit Escape to clear your current target or click the X on the Current Target health bar if it is showing.
Tip: Training dummies can be clicked to practice punching or swinging weapons, up to level 30 in any given skill.
Target Restrictions is an option that allows you to narrow your target selection to certain beings.
When you click on a being or hit tab, and you have a Target Restriction selected, besides the 'All' option, then your attempt to target beings outside of your conditions will be prevented and your current target will be retained.
This helps avoid unintentional target selections when there are a lot of beings on the screen and clicking your intended target can become difficult.
To assist with cycling through nearby targets, we've added 2 new custom-client-actions that can be used to easily switch between intended targets.
You can set Custom Client Action 3 (Nearest Target) and Custom Client Action 4 (Cycle Targets) in the client Keyboard hotkeys settings.
It's recommended to unset the default Cycle Targets (Tab) hotkey and set Custom Action 3 to Tab, and Custom Action 4 to ` Tilde (above tab).

You can change the Target Restriction any time by clicking on the button in the top-right-most corner next to the minimap, the icon will have a skull on it, you can also change the option from Character Settings.
See the Notoriety page for details on criminal actions https://wiki.legendsofultima.online/en/notoriety <can be expanded here later>
There are 3 options to choose how to handle potential criminal actions when you interact with beings or objects: Allow Criminal Actions, Ask Me First, Prevent Criminal Actions
This option can be changed in Character Settings under the Combat tab and Ask Me First is the default setting.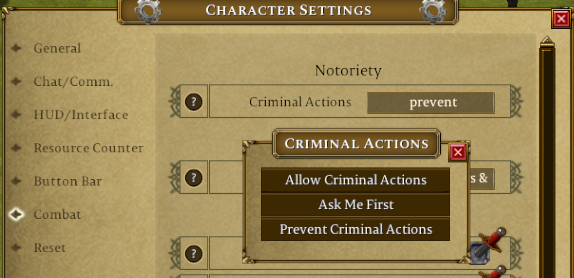 If you happen to die, you will only be able to see other beings in the world while you are in combat mode. The opposite is also true, in that other beings will not be able to see you when not in combat mode. By default, you will be in combat mode when you first die or switch regions. Tap space or click Toggle Visibility to switch between modes.
Ghost-camming is defined by using a dead character/ghost, planted at strategic locations, to spy on potential enemies or to watch for people entering a dangerous area one might be looking to occupy for a time. To prevent such behavior, dead characters will automatically be teleported to Limbo after 15 minutes where they must resurrect and take a Moongate to their choice of towns.