Welcome! This page has been put together in an attempt to outline some information you should be aware of as you make the move to Britannia. Please read it in its entirety!
We'd like to remind you that we consider this a soft launch, or 'map launch', and not 'THE LAUNCH TO END ALL LAUNCHES.' The easiest way to look at things is that we are moving out of Early Access into Beta.
So what does that mean?!
The game will continue to evolve, however once past this point of transition, we do not expect any further impact on your characters or belongings. A MASSIVE amount of work has gone into addressing a very broken economy, some questionable game systems and other elements of our previous iteration that simply weren't tenable long term. We consider Britannia as our new base line to build on.

There is still work to be done! You may see cosmetic oddities and you may find bugs. You may also find one or two empty areas. All of this will be addressed moving forward.
Not all systems will be available at launch! Systems not immediately available will include:
Gardening (keep an eye out for Gardening v2.0!)
Drinking (keep an eye out for v2.0 of this as well!)
Housing
We will give you as much warning as we can in terms of when each of these systems will be 'turned on', especially where housing is concerned, so that we can have as many folks as possible able to engage in these systems as soon as possible.
We understand that not having housing immediately will be disappointing for some of you, however we intend to turn it on as quickly as we can. However, it is very important we ensure stability and consistency in Britannia prior to doing this, so that when it does come time to place your house and store your items, we minimise issues as much as possible. Remember, these are all new systems!
¶ The Overland
In terms of the 'overland' areas, initially 5 'regions' will be available:
Britain
Minoc/Cove
Yew
Wind Outskirts
Buccaneer's Den
We had a professional artist put together a map of what this looks like. Amazing right?!: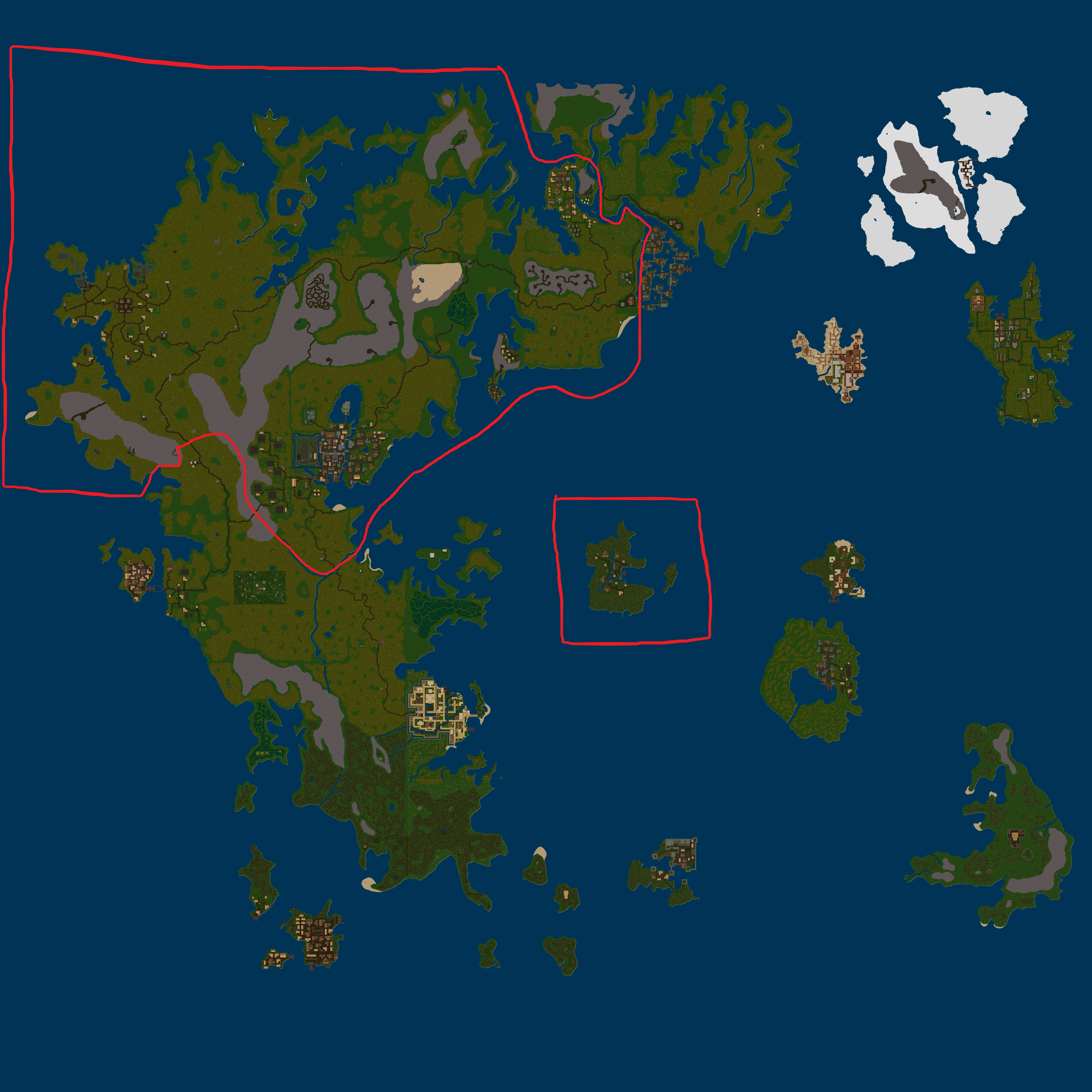 Now it might not look like it, but that's a lot of map. Also, soon after this soft launch, we expect:
Skara Brae and surrounds
North of Minoc/Vesper area
Other areas will of course come in time. Once the dust has settled and any major kinks worked out, we'll be rolling in 'content enhancement' mode and all of this will happen relatively quickly.
Woah, what a list! We have:
Covetous
Destard (entrance is currently the old 'Orc Cave' entry until Skara region is done)
Despise
Shame
Wrong
Ice
Yew Crypts
Britain Sewers (hopefully!)
How about that for plenty of nostalgia!
This list is by no means exhaustive, but this is what we know about and will be addressing ASAP:
Fishing - currently all the water around Britain is fishable, all the water in dungeons is fishable, and only some of the water in other areas is fishable. It's a very time consuming process to make this work, however we'll eventually get the rest of it done.
We still have LOTS to do, new systems we are cooking up, new items, monsters, NPC's to bring into the world, new dungeons, other landmasses etc… we aren't letting up! For the next few weeks though, we'll be going into 'bug fix' mode, where the entire team will be tasked with:
Assisting with GM pages
Working on bug reports
Fixing anything that needs fixing!
Once that's over, then we'll get back into doing what we all truly love, generating content for you all, and for us! (Yes, we want to play our game too!)
Getting us past this point involved a monumental effort from the entire team, and of course our player base. We couldn't have done it without you. Thank you especially to those that helped us with closed focus testing, and in public testing as well.
Before I sign off here, I'll state it once again - we're not done! We expect there to be issues and we'll be right here to get those fixed. There's a lot more content to add, and we're super excited to bring it to you. We'll also be making another marketing push soon after June 20 in the hopes we'll get more folks interested and playing.
We can't wait, hope you can't either!
– The Team