Bulk Orders are deeds that you obtain from talking to merchant NPCs in town. These deeds request certain items be crafted and a certain amount be filled. Turning the deeds back into the merchant will grant you a reward of Fame, Gold, and reward item depending on the skill. See Rewards below.
Requesting Bulk Orders requires at least 50.1 of the related crafting skill, but the deeds can be traded, filled, and completed by anyone.
Talk to a Blacksmith NPC to try to obtain a Blacksmithy Bulk Order Deed, or talk to a Tailor NPC to try to obtain a Tailoring Bulk Order Deed.
You can receive 1 bulk order every 6 hours per skill.
The size and type of deed you receive will vary based on your skill level. See Bulk Order Properties below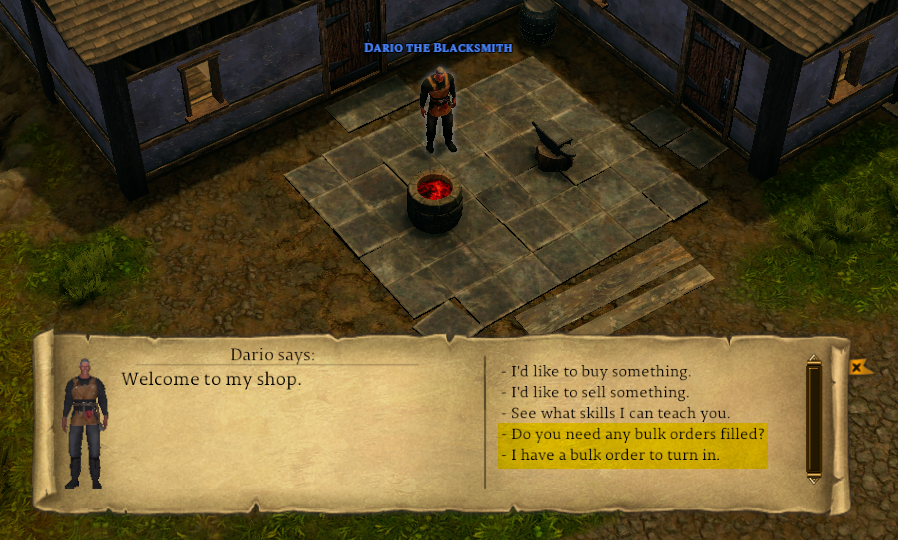 Bulk Orders have the following properties:
size (small or large)
quality (regular or exceptional)
material
item count (varies between 10, 15, and 20)
Bulk Orders come in both Small and Large sizes.
Small orders require a certain type and amount of items to be crafted and filled to the deed, whereas Large orders require being filled with matching and filled Small Bulk Order Deeds. Large Orders may require anywhere from 3 to 5 Small Orders to complete.
The size and type of deed you receive will depend on your skill level.
Note: Large orders & Exceptional orders can only be received by crafters of at least 70.0 skill level.
| Small Bulk Order Deed example | Large Bulk Order Deed example |
| --- | --- |
| Small Bulk Order example | Large Bulk Order example |
Note: Pre-existing items that were crafted prior to the addition of Bulk Orders will not qualify for filling orders.
Bulk Order Deeds can be filled a couple of ways:
drop the item directly to the deed
double click the deed to view the Bulk Order Window and use the Add An Item button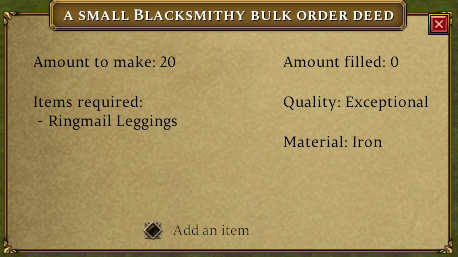 To complete a bulk order, drop the deed directly to a related NPC merchant or use the "I have a bulk order to turn in" option from the dialog menu.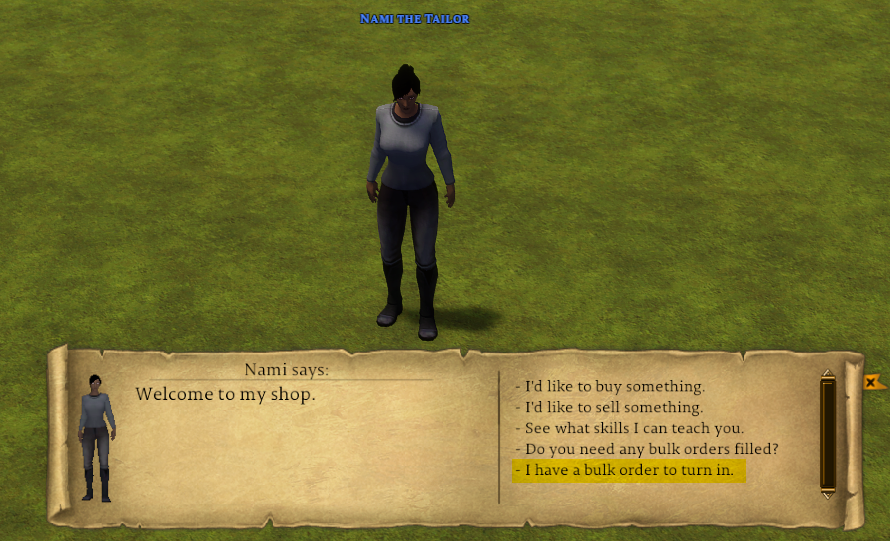 After turning in the deed to the merchant, they will reward you for your work.
See the Bulk Order Rewards page
Bulk Order Books can be crafted using the Inscription skill requiring at least 65.0 Inscription and 10 Blank Scrolls to craft
Bulk Order Deeds can be added to these books in order to help organize them.
To sell Bulk Order Deeds from a Bulk Order Book, you can drop the book into your vendor's inventory and either:
set the price to 0 for Not For Sale (this will prevent players from buying the entire book)
choose a price to sell the book as a whole (this will allow players to buy the entire book for the price you select)
You can set the price individually for each order contained within the book using the Set Price button. Orders are set to Not For Sale to start with and can be set back to Not For Sale by typing 0 in the price selection.